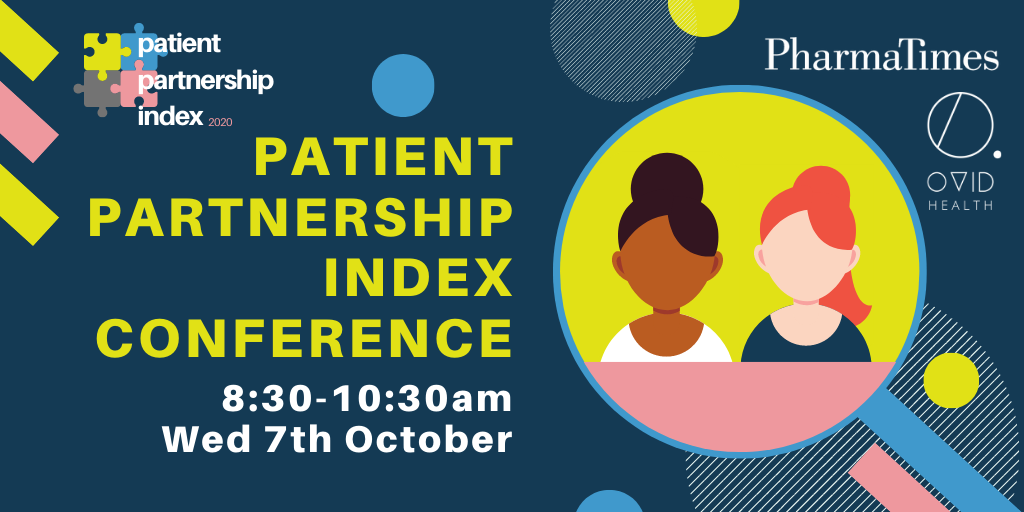 Patient Partnership Index Conference – Wednesday 7th October, 8:30-10:30am
The Patient Partnership Index is an initiative with one key focus – to help create better partnerships between the pharma industry and patient communities. By building these relationships and engaging with patients, pharma will be able to deliver on its incredible promise and realise a better future for everyone.
So how should pharma partner with patients? To discuss the insights of 2020, we are hosting a virtual conference on patient partnerships – featuring the companies that achieved GOLD standard for their entries to the Index.
The virtual conference will take place on Wednesday 7th October from 8:30-10:30am, and will be hosted by OVID Health. Places are limited, with priority being given to those working for pharmaceutical companies or patient groups. To reserve your place please complete the below registration form for the conference. Joining instructions will be shared to the guest list closer to the time.
Featuring some of the leading figures from the pharma industry and patient organisations in the UK, guests can expect lively and insightful discussion across our two panel events. Please see the full agenda below for more details:
Time
Item
8:30-8:40
Welcome and Introduction
8:40-8:55
Keynote address from Jess Mills
Co-founder of ACT for Cancer, Tessa Jowell Foundation and Tessa Jowell Brain Cancer Mission
8:55-9:40
Innovation and Impact: lessons and ideas from the Patient Partnership Index 2020
Speakers:
Selina McKee, Editor, PharmaTimes and Index Judge
Richard Davidson, CEO, Sarcoma UK and Index Judge
Jill Pearcy, Director of Code Engagement, ABPI and Index Judge
Giancarlo Notarianni, General Manager for UK & Ireland, Intercept Pharmaceuticals
Nicole Farmer, General Manager for UK & Ireland, Sanofi Genzyme
David Martin, CEO, MS Trust
Robert Mitchell-Thain, Head of Education and Development, PBC Foundation
9:40-10:25
Engagement and Empowerment: how to create partnerships of equals
Speakers:
Jenny Ousbey, Founder, OVID Health and Index Judge
Amanda Cunnington, Director, Janssen
Leena Sathia, HIV Lead for UK & Ireland Medical Affairs, Gilead Sciences
Dr Ron Daniels, Chair and Founder, UK Sepsis Trust
Sarah Sleet, CEO, Crohn's & Colitis UK
Natalie Bohm, UK Medical Lead CA, Pfizer UK
Denis Onyango, Programme Director, Africa Advocacy Foundation
10:25-10:30
Closing remarks
If you have any questions about the event or regarding registering, please contact us on info@patientpartnershipindex.co.uk or look at our FAQs for further information.