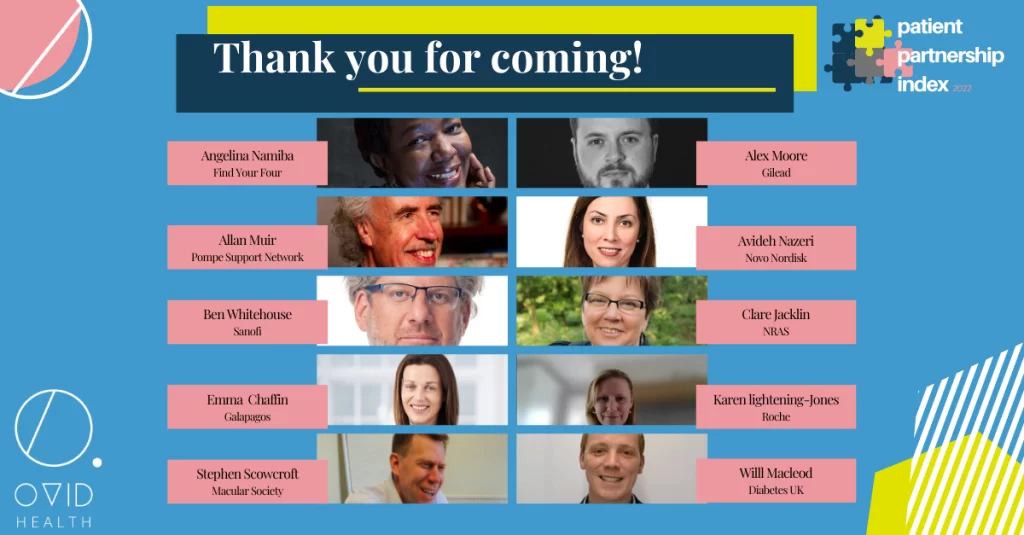 On Tuesday 5th July, industry leaders and patient groups came together for the third annual Patient Partnership Index event, hosted by OVID Health. At the event, judges and representatives of GOLD standard partnerships discussed key themes from this year's entries, including addressing health inequalities, the importance of co-creation and why impact is vital to the success of any project.
The event kicked off with a panel discussion between the judges – Jenny Ousbey (CEO, OVID Health), Sarah Woolnough (CEO, Asthma + Lung UK), Collette Goldrick (Executive Director Strategy and Partnerships, ABPI) and John James (CEO, Sickle Cell Society) – about stand-out aspects and best practice takeaways from the entries this year. The discussion turned to the future of partnerships between pharmaceutical companies and PAGs, and how patients can be empowered in the future. Innovation was a big theme within these discussions, and the judges talked about the diversification of communications platforms and the creativity displayed by the entries.
The second panel discussion was led by representatives of GOLD standard partnerships including Karen Lightning-Jones (Director of Access, Roche), Stephen Scowcroft (Director of Services, Macular Society), Alex Moore (Senior Director of Public Affairs, Gilead), Angelina Namiba (Ambassador, Find Your Four), Emma Chaffin (General Manager, Galapagos), Clare Jacklin (CEO, NRAS), Avideh Nazeri (Medical Director, Novo Nordisk), Will Macleod (Head of Philanthropy and Partnerships, Diabetes UK), Ben Whitehouse (Head of Rare Diseases, Sanofi), Allan Muir (Chair, Pompe Support Network). The panellists discussed co-creation, empowerment, transparency, innovation and impact. Themes that emerged included the creativity of entries, for example using the social media app TikTok to reach new audiences, or using music to raise awareness of a rare disease. Panellists also highlighted that after two years of minimal contact, some strong entries brought communities back together.
The Patient Partnership Index continues to grow from strength to strength. The excellence showcased by pharmaceutical companies and patient organisations in their partnerships over the last year demonstrates that the sector continues to raise the bar, improving the depth, breadth and impact of partnerships.
Patient Partnership Index 2022
GOLD Standard
Galapagos Biotech
Gilead Sciences
Gilead Sciences Ltd UK and Ireland
Medicine Discovery Catapult (MDC)
Novo Nordisk
Roche
Sanofi
SILVER Standard
Eli Lilly and Company
Gilead Sciences Ltd UK and Ireland
GSK
Janssen
LEO Pharma
Novo Nordisk
Pfizer
Vifor Pharma
FINALIST Standard
Novo Nordisk
Pfizer
Takeda
For more information about the Patient Partnership Index, please contact info@patientpartnershipindex.co.uk.