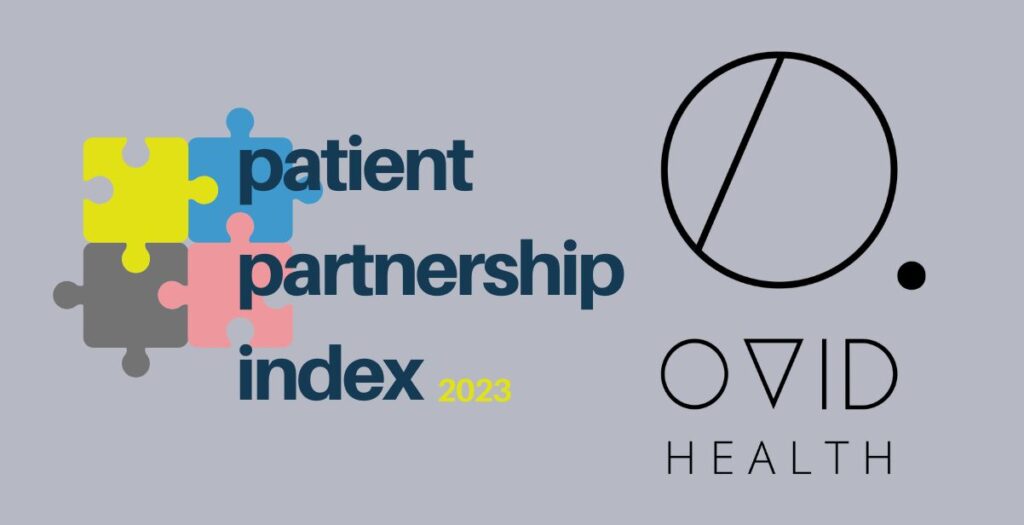 Results of the 2023 Patient Partnership Index have been announced today, recognising best practice in partnerships between pharmaceutical, biotech or MedTech companies and patient groups.
Five partnerships have been recognised as meeting the GOLD Standard, which represents the highest-quality and deepest partnerships between industry and patient groups.
The Index, developed and launched in 2020 by independent healthcare communications agency OVID Health, benchmarks and evaluates the quality of partnerships between industry and patient groups in the fields of patient advocacy, communications, public affairs, clinical trials, and R&D.
Entries ranged from campaigns delivered in the UK to projects carried out on a global scale. Common key themes from 2023 entries included reaching underrepresented groups with health messages, shared decision making and empowering patients through access to clear information.
This year, for the first time, the Index has accepted entries from patient groups, as well as from commercial partners. A quarter of Index 2023 entries were led by patient groups.
The results of the 2023 Patient Partnership Index are:
GOLD Standard
AKU Society and the DevelopAKUre Consortium
Gilead Sciences and the Elton John AIDS Foundation (RADIAN partnership)
Kyowa Kirin and Lymphoma Action
Pfizer UK and the Patients Association
Sanofi UK & Ireland and the #ThisIsRareThisIsMe partnership
SILVER Standard
Astellas Pharma Europe Ltd and the World Bladder Cancer Patient Coalition
Beckley Psytech and the Psychedelic Participant Advocacy Network (PsyPAN)
Gilead Sciences, Black Women Rising (BWR) and Theatre Peckham (Unseen Unheard)
GSK and The Eve Appeal
Janssen and the Immune One Partnership (National Rheumatoid Arthritis Society (NRAS), The Psoriasis Association, Crohn's & Colitis UK, IBD Relief, Lupus UK, and the National Axial Spondylarthritis Society (NASS))
Kyowa Kirin and XLH UK
Pancreatic Cancer UK and the Less Survivable Cancers Taskforce
Pfizer UK, the National Innovation Centre for Ageing (NICA) and Voice
Sanofi Global Health Unit and reach52
Sobi and the ITP Support Association
UnitelmaSapienza University, Smith Kline Foundation and Accademia del Paziente Esperto EUPATI
FINALIST Standard
GSK and The National Kidney Federation
Norgine Pharmaceuticals Limited and Bowel Cancer UK
The Patients Association and Novartis
RareCan, GCT Survivor Sisters UK Group and Ovacome
Entries to the Patient Partnership Index are evaluated by an independent judging panel across six themes; Engagement, Co-creation, Empowerment, Transparency, Innovation and Impact. These criteria were developed in partnership with academics, patient groups, and industry.
The members of this year's independent judging panel were:
Louise Fish, CEO, Genetic Alliance
Colette Goldrick, Executive Director, Corporate Affairs and Strategy, ABPI
Chris Askew, CEO, Diabetes UK
John James, CEO, The Sickle Cell Society
Jenny Ousbey, CEO & Founder, OVID Health
Commenting on the results, Chair of Judges Jenny Ousbey, said:
"This year saw a huge variety to the projects entered – from clinical trials engagement to game-changing advocacy projects in Africa.

"I was particularly pleased to see a number of global and above-country partnerships submitted to this year's Index, reflecting that although the UK often leads the way on patient advocacy, there are plenty of partnerships globally which are taking a co-created approach to solving some of the knottiest patient challenges.

"However, despite coming a long way since the Index first began, the need to properly measure the impact of partnerships has never been stronger and this is something OVID will be supporting clients with in 2023.

"The judges were struck by the diversity of entries, with budgets ranging from hundreds of pounds to millions, demonstrating that with enough creativity and commitment, there's potential to deliver real impact for patients, whatever resources are available.

"I would like to thank my fellow judges, and, on behalf of the whole panel and the Patient Partnership Index team, to congratulate everyone who entered, particularly those which achieved GOLD Standard. I look forward to seeing how these partnerships continue to evolve and strengthen in the months and years ahead."
To find out more about the Patient Partnership Index 2023, visit the Index website at www.patientpartnershipindex.co.uk or contact the team at info@patientpartnershipindex.co.uk.